Welcome to The Center for Communally Bonded Research
(CCBR)
College of Education, University of Missouri St. Louis
– Highlighted Publications and More –
Closures of Black K-12 schools across the nation threaten neighborhood stability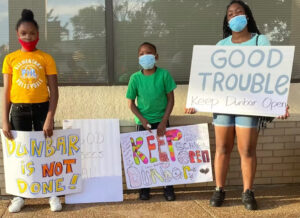 Residents of the St. Louis neighborhood known as The Ville have been fighting for years to stop the closing of Charles H. Sumner High School, the oldest historically Black high school west of the Mississippi River.
Sumner High School has been under repeated threats of closure from the school board and the superintendent, who cite declining enrollment. The most recent such threat arose in December 2020.
Established in 1875, Sumner High is named after a former U.S. senator who vehemently opposed slavery. The school's alumni represent a who's who of Black people, including rock stars Tina Turner and Chuck Berry, comedian and civil rights activist Dick Gregory and tennis legend Arthur Ashe.
An Intergenerational Exploration of Breastfeeding Journeys Through the Lens of African American Mothers and Grandmothers
Although there has been an increase in breastfeeding initiation rates among African American women, they face an upward battle to attain the Healthy People 2020's (United States Department of Health and Human Services, 2010) breastfeeding initiation goal of 81.9%. For example, African American women's breastfeeding initiation rate of 69.4% trails that of Asian women (89.3%), white women (85.9%), and Hispanic women (84.6%), (U.S. Centers for Disease Control and Prevention, 2018).